When planning to return your service to an operational level, it can be a good time to do a little 'spring cleaning' in your ReferAll scheme/s and an option for returning referrals.
Starting to prepare for your service operations returning to normal can be daunting! It's not uncommon for data to get out of hand during busy times. To check how your scheme data is shaping up, read on...
Using the reports feature run a report based on time - let's say last year. Select the Scheme Summary report and generate the report.
Looking at the data will quickly show if there are records that have not been moved through your programme. Question referrals that are in Referred (R), Intends to Participate (ITP) or Participating (P) statuses as these still show as 'on programme'.
It may well be that the end of your intervention was a number of months ago, in this case then you should see all referrals in the following statuses; Completed (C), Left Early (LE) or Not Participating (NP).
If you have a batch of referrals that are in Referred status for a given period that you have no intention of starting on the programme than you can update the Status in bulk using batch actions from List Referrals.
Spend a little time reviewing your data and updating it as necessary.
How can I process Pre-COVID referral records in Participating status that wish to return to my service?
One option for processing referrals in Participating status (pre-COVID) that wish to return is to set the original referral to Left Early, reason = COVID with further details i.e. Lockdown or other.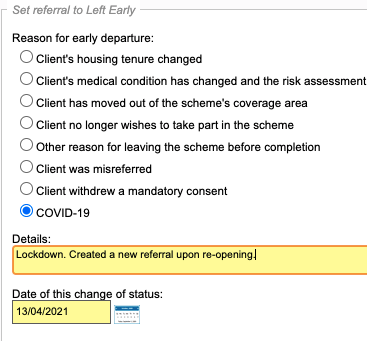 By creating a new referral for the patient, when you speak or during the initial assessment, check if their medical history has changed since your last meeting and update the referral's medical conditions with additional information by ticking medical conditions / Yes to add further information in the referral record where necessary.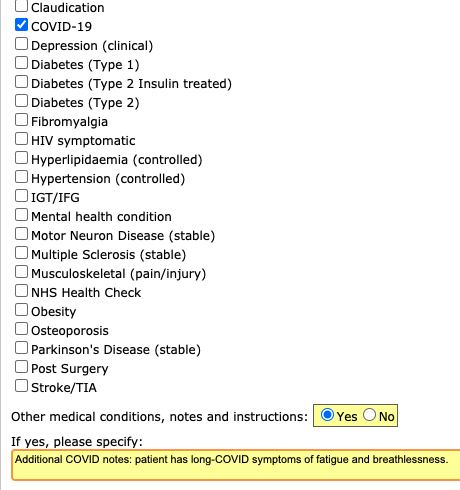 With this process each scheme can easily report how many referrals weren't able to complete due to COVID / Lockdown or other reason due to COVID. Although it takes a few extra minutes to create a new referral it ensure a clear cut-off point and your referral records will be 'less messy' when running reports.