We are making the login process quicker and easier - from 20th June you will notice a new login screen. Here is what you need to know.
APPLIES to: Super Scheme Administrator / Scheme Administrator accounts
The new login experience is part of a larger ReferAll-wide project which moves from the existing login technology to something called Microsoft Azure B2C. Future project plans include the introduction of two-factor authentication, however we will provide updates when this is being introduced.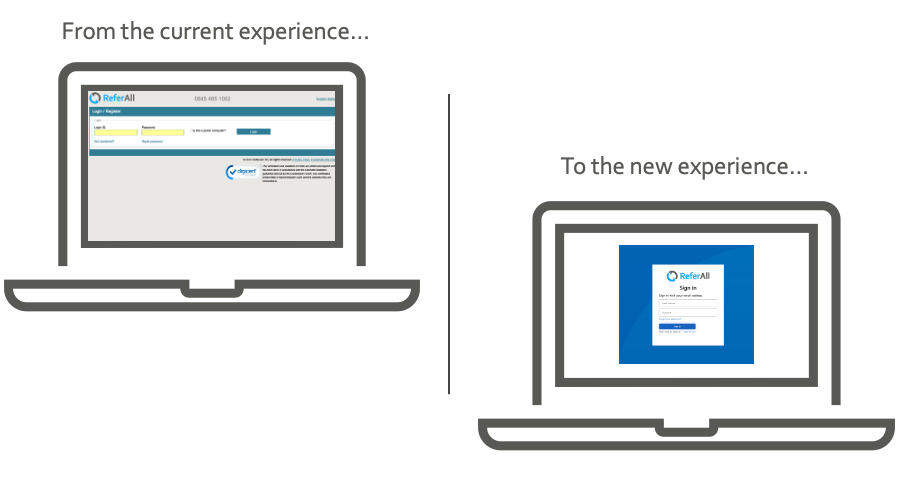 As you will see, we've made some changes to the overall look of the login page. We've removed the clutter, refreshed the colour palette for a crisper feel and included a 'Forgotten Password' feature enabling you to re-set your password 24/7.
What you need to know
The Scheme Administrator (user) login url is the same:
https://secure.refer-all.net/ers-sa/Login.aspx
You will need to set a new password the first time you login after 20th June.


Go to the ReferAll login page
You will notice a new login screen.
Enter your the email address you saved in your ReferAll account (N.B. your old Login Id is no longer needed).
You will need to create a new password.
Click 'Forgot your password?'
Enter the email address you use to log in to ReferAll, and click 'Send verification code'

Check your email inbox. Once you've received our email, enter the code.


If you're still waiting for our email, check your junk or spam folders. Sometimes emails from support@refer-all.net can get caught in spam filters. We recommend you add the domain to your safe senders list to prevent this happening again.
Once your email address is verified, you'll see this message.



Ignore Change e-mail button

Click 'Continue'
Enter a new password and confirm the password.

Click 'Continue'. You will be logged in immediately.
So, don't be alarmed when you see the new login screen. The changes that we've made some of which will be invisible to you, are all part of our commitment to implementing security best practices and enhancing your login experience.
Kind regards,
ReferAll Support