Do you need a bespoke questionnaire? Below is everything you need to know about submitting a request.
Question types
What follows is a list of question styles ReferAll can build into your questionnaire.
Radio buttons

Checkbox

Date control

Drop down list

Time picker: Hour Min

Text input

Text area

Slider (Radio button, we need to check & supply extra details)

1 to 10 scale with scoring (screen shot)




Things you need to tell us about data fields when making your request:

Text only, numerical only or allow both

Default setting: mandatory or non-mandatory for all, some or specific data fields.

Questionnaires are either created a)single questionnaire or b) a question panel as part of a questionnaire.
Your service intervention points for the questionnaire and title. The options are:
Initial / Mid / End / Post 1 / Post 2 / Post 3
Changing questionnaires may alter the way that data can be reviewed – both within Outcome Reports and via data Export. Accordingly, any amendments to questionnaires should be carefully considered.
Potential impact
General considerations
Wording changes could alter the meaning of a question which could have an influence on the response.
Changes to the response options / format, additions or removals could result in older data sets and newer data sets becoming disconnected and need data collation if exporting data.
Outcome Reporting (in the Reports icon)
A change to a validated tool such as IPAQ, SWEMWBS is not recommended. The automated scoring method cannot be applied and results will not display in Outcome Reports. If you wish to add additional questions we recommend you request they are built in a new question panel.
Please take into account adding validated question sets such as IPAQ, SWEMWBS to a scheme after collecting responses, not every referral will have responses recorded unless you go back and collect the data.
Exports icon
Requesting changes after you have begun collecting responses means a new 'Active' version of the questionnaire will be created in the ReferAll platform. The previous version will be set to 'Inactive'.
It will be necessary to deselect 'List active questionnaires only' if you want to export data covering both Active and Inactive questionnaires. Data must be collated after export: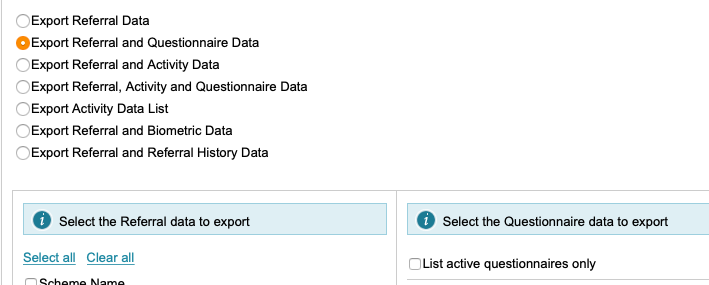 If you have any questions, get in touch and we'll be happy to help!