Questionnaires in ReferAll have two settings: Active or Inactive. If you can not see a Questionnaire under Schemes, follow these steps to locate it:
Once logged in:
Click on the [Schemes] icon in the top navigation you'll be taken to the area for the scheme.


Select the scheme from the dropdown e.g. [Exercise Referral Scheme X] and the page will refresh and display general settings for that scheme.


Scroll towards the bottom of the page, tick the 'Include inactive questionnaires' box. Under the Active column, this will say "False".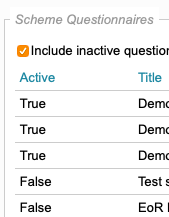 To preview the questionnaire, scroll through the list of questionnaires. Click [Preview] next to the questionnaire and it will open it in a new tab/window.
If it doesn't open it may be down to a pop up blocker in the browser but if you click to allow popups from ReferAll all will be good.
How do I set a questionnaire to Active? Follow these easy steps to change a questionnaire from Inactive to Active