Read on to learn why you may need to set the ethnicity for an onward referral:
APPLIES to: Refer Patient On feature
When a new referral is created via Refer Patient On, the Patient Tab / Ethnicity: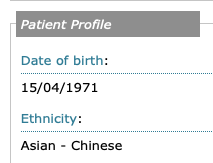 will need to be set if the original referral did not have this field saved before creating the onward referral.
Check if this scenario applies by following the example below:
For each referral pair, there are only two relevant dates:
When the referral was referred on. It is now it's own separate referral.
When the Ethnicity was updated on the original referral.
So in this example Referral ID XXXX referred on to another scheme in your organisation: Referral ID YYYY
The new Referral ID: YYYY was created on 21.06.2022 but the ethnicity on the original referral (Referral ID XXXX) was only updated after that on 23-06-2022.
We hope this clarifies when the Ethnicity field must be set for an Onward Referral ID.